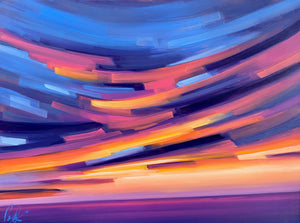 Original Oil on Wood Panel 16" x 12" x 3/4"
(framed in Maple wood)
One of the many great things about living on the west side of the Big Island is that we get incredible sunsets throughout the year.
Multi-hued brushstrokes of pinks, purples, yellows, and oranges streak across the panel.  I've been trying to simplify the shapes of the clouds, and express the emotional feeling I feel when viewing something so extraordinary as a sunset, as movement in a stroke.  There is an exciting contrast of light and dark in the clouds, juxtaposed by the soft soothing pastel color palette of purples and yellow at the horizon line.  It's one of those painting that continually changes the more I look at it.