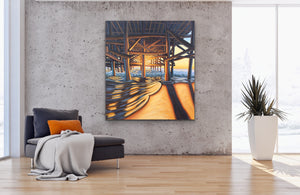 Welcome to the Art of Grant Pecoff
Gazing into a Grant Pecoff painting, you are drawn into an atmosphere where vibrant light and electric colors transform the familiar into the extraordinary.  Pecoff's art is an invitation to slide into a state where we feel alive and awake - into a setting of passionate depth and radiating energy where our hearts and imaginations are filled with possibilities.
As a world traveler, Pecoff has embarked upon many international pilgrimages, painting some of the world's most spectacular and beloved cityscapes, dramatic coastal views, breathtaking sunsets, expansive cloud formations and nautical themes.  At the heart of Grant Pecoff's talent is his ability to share the way he sees life with viewers.
Pecoff's early successes led to the opening of his first gallery in the affluent beachside town of Del Mar, California at the young age of 27 and then five years later, his second gallery in the hip neighborhood of Little Italy San Diego.  Pecoff's work has been represented internationally at galleries in Canada, France, Spain, The Bahamas, Hawaii and the USA, and proudly exhibited by art collectors worldwide.
Take a trip into Grant Pecoff's art and uplift the vibration in your world!
"Awaken to the colorful world around you"