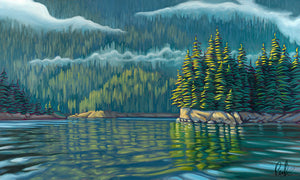 Double-Matted print by artist Grant Pecoff featuring morning mist drifting through the trees as sunlight begins to illuminate the tree in hues of golden green.  

This print comes with a double mat and is printed on high-quality fine art paper.  It includes a brief description about the artist attached to the back and is available framed. Note, image may be slightly cropped to fit in the standard 8 x 10 format.

To accompany your print, we have a selection of beach weathered frames available in a variety of colors to suit your decorating needs. 
Grant Pecoff's art passionately invites our hearts to awaken and to expand our imaginations to be filled with endless possibilities. Take a trip into Grant Pecoff's art and uplift the vibration in your world!