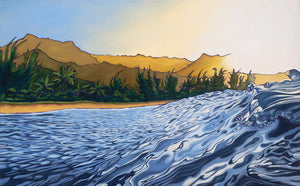 This was one of those fantastic afternoons in Hanalei Bay where the sun was low with golden light creating a dusty hue on the mountains surrounding the bay.  The glare of the sun was so strong that the mountains in the distance seemed to be swallowed up by the white brightness of the sun.
The swelling of the waves lifted me up and down, gently rocking me.  All around me there were patterns of color, ringlets of light, moving in a continuous dance along the water's surface.
Like most waves reaching the North Shore of Kauai, the every of this wave originated from somewhere in the vicinity of Alaska.  Propelled along by currents and wind, it gathered momentum.  Painting the water seemed overwhelming at first…."where do I start?"  I asked myself.  I emptied my mind of the way I have known to paint water, and began.  What unfolded was a process free from expectations and filled with exploration.  This painting was the launching point for a stylistic change in painting patterns of water, my water hasn't been the same since.