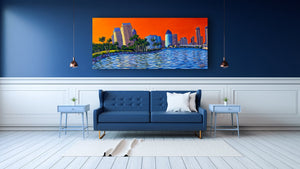 Pecoff Collector's Club
---
Have you ever seen a work of art and said to yourself, I would love to have that BUT I can't quite afford it, so you passed on acquiring something you absolutely loved because you didn't have the resources to purchase it?
We think fine art should be accessible.  Period.                              
THIS IS SIMPLE
Make a 25% deposit

Choose a 3, 6, 9 or 12 month installment plan

Pay a one time service fee of $49.95

Receive your artwork NOW!
ADVANTAGES
No Interest payment plan

Start your collection today, no need to wait to save up and risk missing out on the art you love

Assure the work you love is available at price a price you can afford

No hassling with expensive credit card fees, avoid the risk of late charges
RISKS
Get started today!  
Select your favorite work from www.pecoff.com and email team@pecoff.com to take advantage of this special offer.
Maybe one of these fan favorites?  A New Day, Sunset Surf and Stormy Skies at Tabago Cays are all nearing being SOLD OUT!