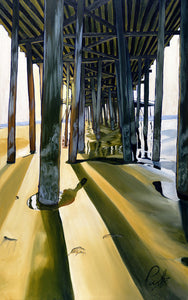 I originally painted this painting in 2002, as a part of my "California Coastal" Series, where I travelled up this beautiful coastline for 3 weeks to sketch and paint.
I arrived at Pismo Beach in the late afternoon. I had to stop here- my dad constantly talked about Pismo Beach throughout my childhood.  He spent his college years in San Luis Obispo and came to Pismo to party on the weekends.
 When I arrived it wasn't much of a party, but the light was incredible.  The air was crisp and the light was fastly fading.  As soon as my feet touched the sand and my eyes came upon the pier I knew I had a painting.
I've never really spent any time investigating under a pier before.  The poles which made up the foundation of the pier were silhouetted by the warm light pouring in and there was a yellow haze in the air where the water came in; It was a painting come alive.
I was a little apprehensive about making this painting because I wasn't sure if I could reproduce this experience.  I threw caution to the wind and did it anyways.  It is one of my favorite paintings from his series.