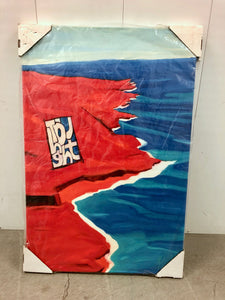 Oil on Canvas 24" x 36" x 1.25"
 This is an abstract painting of the lava flow which once cascaded down the slopes of the Big Island and into the ocean. It is painted from high above, using the perspective of the helicopter in which I was riding. In reality, the lava slopes are black, but in my painting, I wanted to convey the heat of the magma which was underneath the cooled rock, so I used a fiery red. It was amazing to see that the water really is an intense aqua color and like the two elements of fire and water, the two colors together create a brilliant contrast of energy.
The window in the left of the painting with the word "thought" in it, serves as a doorway into our minds. It is there to remind us that at any given time we are experiencing parallel worlds of thought and feeling. Do we notice our thinking mind? Are we in touch with how things make us feel? My point is to interrupt the incessant stream of thinking and in doing so, remind us to return to this moment...to be anywhere else is to be trapped in the illusion.