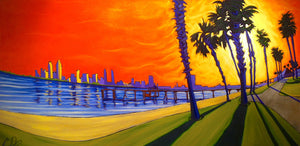 Original Oil on Canvas - 24"x48"
Inspired by Coronado Ferry Landing in the early morning.  The sun rises silhouetting  the fan palms and casting long shadows across the grass and walkways.  Across the bay, the San Diego city skyline sits in the distance.  The path on the righthand side of the painting is made of silver leaf, and reflects the metallic surface depending on the time of day and where one hangs it.
It's a stellar piece, that just hasn't found the right home yet.
Note:  the edges in the photo of this painting appear dark, and overall the photo is slightly more saturated in color than the original.  The original painting is still incredibly vibrant, but is more consistent in lighting and tonal value.