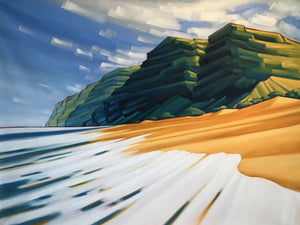 Inspired by my time camping and exploring Kauai's remote and powerful Polihale coastline on the west side of the island.  This area is one of my favorite places to go camping on the island, there are camp spots a few meters back from the beach, or you can setup right there on the beach and be woken by the sweet sound of surf...or maybe I should say sweet pounding of surf. The waves can get pretty massive here, and on high surf days the water comes in with such a force, that it's easy to be swept off your feet. 
When the Dalai Lama came to Hawai'i in 1994 he told his tour guides one of the two places he wanted to visit on Kaua'i was Polihale, "Because Polihale is the place where souls leave for the next world."
Gigantic mountains of the NaPali watch over the several mile long beach, guardians of this sacred place.