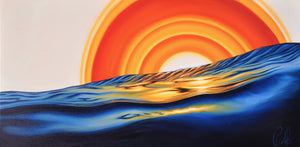 Original Oil on Canvas
60" x 24"
The title says it all, "Gratitude for the Expanding Universe."  The Universe is continually expanding, and as we are a part of this universe we are also expanding.  I feel it in my body and in my consciousness...some of these moments happen when I am on and in the water.  I feel so very grateful for these moments.
This is the second painting of expressing this concept.
Expect a 2-4 week delivery time.