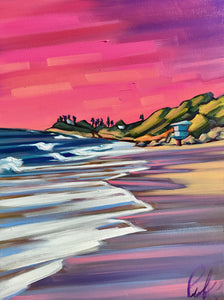 Original Oil on Wood 16" x 12"
(framed in Maple Wood)
Inspired by the coastline at Cardiff. As long as the tide cooperates, this is a great beach to walk on...secluded from Highway 101 by the high bluffs, with views of Swami's to the north and views of La Jolla to the south. Good waves and not too crowded.
This is a study for a bigger piece of the same subject. I don't often paint with pinks, but for some reason the color palette was begging for pinks to be included. It just felt right. I love the energy and harmony that the pinks and purples along with the greens give this painting. It's painted in my newer style, which is still evolving, but focuses on movement of brush strokes in relation to one another, and always attempting to loosen up.