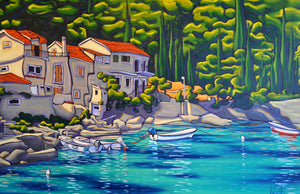 Original Oil on Canvas
26"x40"
List Price: $6,800  MOVING SALE PRICE: $5,540
We sailed into another tiny bay, this time we were greeted by a charming village on the water.  The seaside villas reached down to the shoreline, which was made of rock and stone polished smooth over centuries and lifetimes.  Small runabout boats were tied up, casting pearlescent reflections in the water.  I couldn't believe my eyes, turquoise water was right below me, an awesome contrast to the deep cool blue of the Adriatic.  It was as if someone took the water from the tropics and transplanted it into the Old World culture.  The best of both worlds - this is the Med!