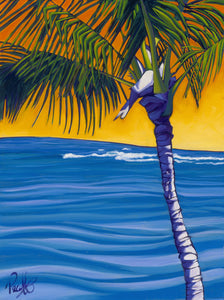 ORIGINAL OIL ON CANVAS 18"X24"
LIST PRICE: $4,000    

MOVING SALE PRICE: $2,000

 
[[end tab]] [[start tab]]
DELIVERY
Mini Giclees, Perfect Giclee on Metals and Limited Edition Canvas Giclees will arrive in 3-4 weeks.
Custom Created Artist Enhanced Giclees will arrive in 4-6 weeks. 
If you require your art more quickly, there may be a possibility of expediting the turnaround time. After placing your order, please contact us directly to discuss. 
If you have any questions, please feel free to contact us at gallery@pecoff.com or 619-231-1991. [[end tab]]