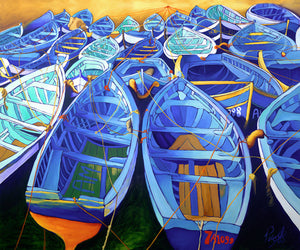 It was a windy afternoon, dust kicked up and swirled around in the air, pelting my face and body.  The port was busy with fishermen unloading their catch and men on the docks untangling their nets.  The sun was low, casting an orange glow.  I sat on the edge of a dock, legs dangling, watching the small blue boats tied together, gently swaying.  I sketched the scene before me, filled with color and life.
Kids with homemade poles fished in the murky green water next to me.  When I finished the sketch, and stood to leave, a Moroccan man approached me and asked to see my drawing.  He invited me to walk and watch the setting sun.  our conversation on the break wall ranged from talk of spirituality and family to politics and government.  In between there was a peaceful silence.  We watched the ships coming into the port, trailed by hundreds of seagulls in search of fish, the whole scene bathed in golden orange sunlight.  I was filled with a joy for humanity, to be sharing a moment with a stranger in a strange land.  That is Morocco!

As soon as I saw the boats, I knew I wanted to paint them and I wanted to paint them big.  This was the first larger studio painting I had created.  I love the lines of the boats and the vibrancy and energy from the limited color palette of cool colors highlighted by the warm oranges and yellows.