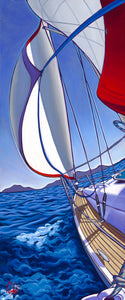 The sound of the wind filling the sails was music to my ears.  It had been five years since we had lived on our boat and I had forgotten how much being on the water recharged me.  The taste of the salt air, the sound of the water lapping against the hull, the reflective light shining like diamonds on the water, and the sense of freedom that only a boat can give you.  Pure happiness!
We were sailing along the Dalmatian Coast of Croatia, across 400 islands covered with cypress trees, national parks, stone ruins, and steeped in a rich history dating back to the Grecian times.  
We raced between islands, beating the Bura (strong fierce Northern wind) into a safe port.  The boat docking behind us was not so lucky, and came crashing into us, taking a small chunk out of our hull.  While the two captains worked it out with the charter companies, we took advantage of the situation and spent the time exploring the island by scooter, and having one of the most memorable days of the trip.  Sometimes, even events that seem like bad luck at the time, turn out to be a blessing in disguise.  
The Original Oil has been SOLD.
---