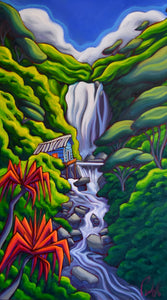 Original Oil on Canvas 
15.75" x 27.5" x 1"
Custom Framed in Maple Wood Floater
I've always wanted to live next to a waterfall. How exciting it would be to have the sound of constant falling water bouncing off the canyon walls, water spray mist filling the surrounding jungle, and how comforting it would be to fall asleep to this ever-present companion. The closest I've come to this feeling is having a Lomi Lomi massage at the base of a small waterfall on Kauai, which was an awesome experience.
This piece is inspired by the many waterfalls I've encountered while hiking the various islands of Hawaii and through the jungles of Ecuador. I have taken inspiration from both these locales and created a painting that embodies both their spirit.
---